---
RE: Knocking One Out - Sycophant - 01-05-2015 02:22 PM


(01-05-2015 07:17 AM)

drsrhino Wrote: Derry Matthews says he can't name the opponent but its the biggest fight of his career due to be announced this week.

He deserve it. He's the best in his weight division domestically I reckon.


---
RE: Knocking One Out - drsrhino - 01-05-2015 05:04 PM

I don't think he is the best by a long way but he is a great guy and can punch. He helps others out a lot so why not get another chance.


---
RE: Knocking One Out - Sycophant - 01-05-2015 05:45 PM

He's beaten a lot of decent boxers: Gethin, Coyle, Crolla, etc.

He won't face Campbell and I doubt Mitchell is that interested, so where does he go?


---
RE: Knocking One Out - drsrhino - 01-06-2015 06:18 PM

Im not saying he hasn't beaten good fighters but he may be 5th or 6th in that weight division in this country.

Definitely abo e him are Mitchell, Flanagan, Cardle and Campbell. Arguments could easily made for the much improved Crolla and Coyle. Gary Buckland holds a win against him and is still active too.

I am happy for him to get the shot. He deserves it. I just dispute the fact that he is the best of british at lightweight when he clearly isnt.


---
RE: Knocking One Out - chesterhino - 01-07-2015 10:14 AM

Josh Warrington will face Dennis Tubieron in an official eliminator for the WBC World Featherweight title at the First Direct Arena in Leeds on April 11, live on Sky Sports.

Warrington is aiming to continue his meteoric rise over the last year inside his intimidating fortress and pick up the vacant WBC International crown in the process, but faces a tough task in the shape of 'The Scorpion' from the Philippines, who boxed for that title in December with his clash against Carlo Magali ending in a controversial draw.

The Leeds star has seen off Samir Mouniemne, Rendall Munroe, Martin Lindsay and Davide Dieli in a dazzling run of displays, and with a raucous hometown army behind him, the 24 year old will be aiming to crash into the rankings in style on April 11, with a trip to Berlin on the undercard of Paul Smith's World title rematch against Arthur Abraham to come first for Warrington on February 21.

Welsh star Nathan Cleverly will return to action in the Light Heavyweight division as he targets German WBA champ Jurgen Braehmer while Martin J Ward will rematch Maxi Hughes in a British title eliminator following their exciting draw in London at the end of 2014. Leeds man and British Light Heavyweight champ Bob Ajisafe features as part of a big line up to be announced over the coming weeks.


---
RE: Knocking One Out - MOT - 01-07-2015 11:20 AM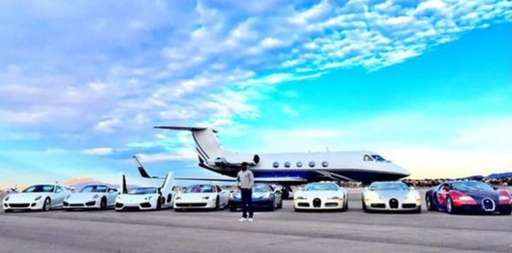 "Welcome to my world" tweets world champion boxer Floyd Mayweather.


---
RE: Knocking One Out - camdentiger - 01-07-2015 12:09 PM

What a tool


---
RE: Knocking One Out - MOT - 01-07-2015 04:32 PM

That's putting it politely


---
RE: Knocking One Out - drsrhino - 01-09-2015 05:16 PM

Carl Froch looks like he will announce chavez jr fight this month vacating the belt instead of fighting degale.


---
RE: Knocking One Out - Cheese - 01-09-2015 08:35 PM

hes so determined to be on a certain path i think hes making an error. his call mind u.


---